Education



Education is the first step across the opportunity divide. UWCT believes all children deserve the opportunity to reach their full potential and become the next leaders in our community. Education is a cornerstone for success in school, work, and life—and it benefits the whole community. By working to give more children the skills and resources to succeed in school, we are setting them up for lifelong success. We lay a foundation that will span future generations and help break the cycle of poverty.
The first few years in a child's life offer unparalleled opportunities for learning that can dictate each child's future trajectory. That's why UWCT funded programs have been driving increased access to early childhood education programs through local collaborations.
UWCT works to ensure more students are surrounded by a community of support, which can empower them to graduate from school and succeed in life. High school graduates have higher earning potential, contribute more to their local economies, are more engaged in their local communities, and are more likely to raise kids who also graduate and go on to higher education or enter the workforce.
UWCT is about more than short-term charity for a few; we're about lasting solutions that build educational opportunities for all. We look at the big picture to assess which resources are lacking or need strengthening, then we address those gaps to keep kids on track to graduation and beyond.
UWCT Impact Strategy Highlights
After School Programs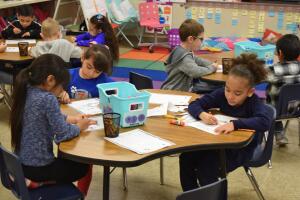 UWCT supports community programs seeking to engage youth and provide learning, enrichment, and leadership opportunities designed to support their academic success and overall development. Participation in high-quality after school programs helps to improve student work-study habits, homework completion rates, and course grades. Participation in quality programs also helps to increase student engagement and school connectedness, increases in self-esteem, improved relationships with peers and adults, declines in negative, risk-taking behavior, and increases high school graduation rates.
Early Childhood Education
UWCT works with community stakeholders and education organizations to align and coordinate programs for children ages 0-5; identifying the most effective education practices and advocating for the support and programming needed to ensure all children receive high-quality early care and education. Pre-literacy skills are an essential component for a child's success in subsequent school years. When a child enters school ready to learn, they are more likely to be reading at grade level by the fourth grade and the need for intervention in later years is greatly reduced; he or she has a greater chance at long-term success and is more likely to graduate from high-school.