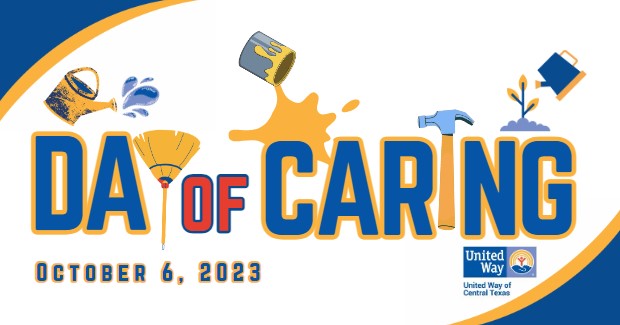 United Way of Central Texas' Day of Caring is a strategic volunteer program created to help advance the common good on issues of education, income and health. UWCT's Day of Caring is more than a single day of volunteering; it is the launch for ongoing volunteer engagement and opportunities.
No donated dollars to the United Way Campaign are used to underwrite any Day of Caring costs.
2023 Day of Caring - Friday, October 6th
Agencies:

Submit a Day of Caring Project HERE!



Volunteers: Complete your Day of Caring Volunteer registration HERE!




See photos from the 2022 Day of Caring HERE!
Day of Caring is a powerful way for UWCT to join forces and create action in Central Texas. It is a day that underscores how essential volunteers are to making a difference in our community and provides an excellent platform to invite new volunteers into our work, while giving a meaningful way for existing supporters to stay connected to our mission. Day of Caring is an opportunity to invite individuals into our work of mobilizing the caring power of the community.
For more information on how to get involved, please contact Veshell Greene at Veshell.Greene@uwct.org