Financial Stability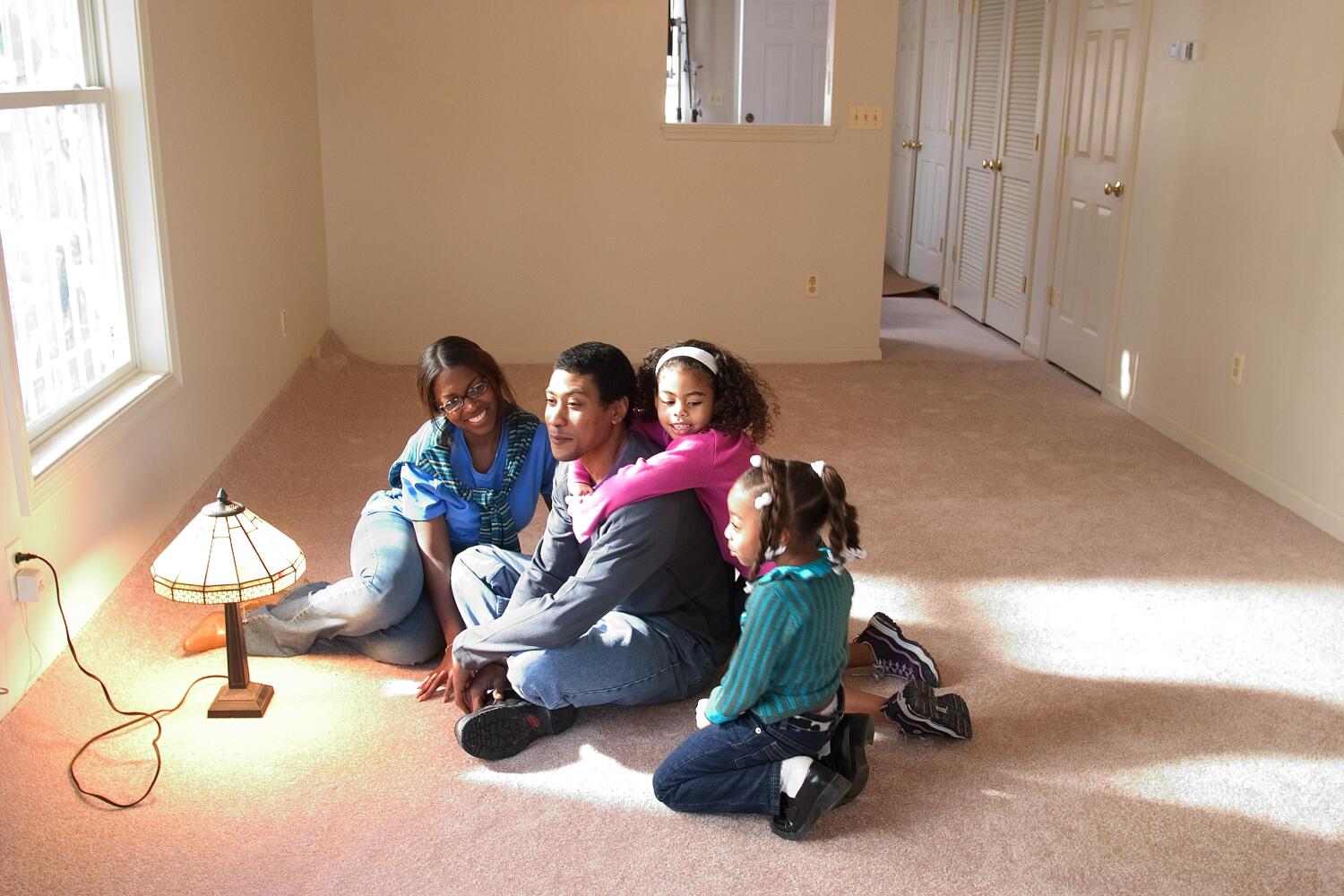 Financial stability benefits more than a family — it benefits his or her neighborhood and entire community. When we are on solid financial ground, we are more likely to have access to good-quality heath care, provide a good education for our kids, and contribute to our local economy. That's why UWCT focuses on lasting income solutions (that go beyond charity) to help people build skills and education necessary to get, keep and advance in a good job. And that's why we are establishing strategic partnerships from all sectors to offer financial wellness, coaching and planning to help anyone better manage income, savings and assets.
UWCT is engaging Central Texans, and we are bringing people together to solve community problems. Long-term economic success is not possible without an investment in long-term human success. Working together, we are building strong neighborhoods — all over Central Texas— where individuals and communities can thrive.
UWCT Impact Strategy Highlights
Volunteer Income Tax Assistance Program (VITA)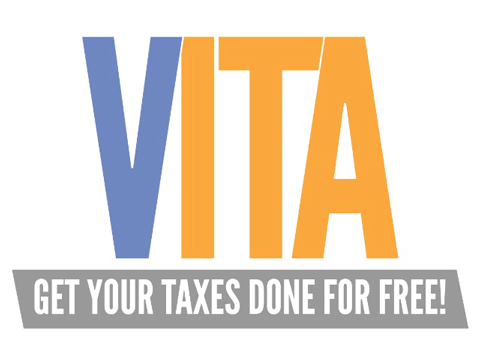 During the Tax Season, (February – April) the VITA program offers free tax help to people who generally make $60,000 or less, persons with disabilities, the elderly, and limited English speaking taxpayers who need assistance in preparing their own tax returns. Our IRS certified VITA volunteers provide basic income tax return services without charge, ensuring 100% of the tax refund goes directly to the customer.
When tax season arrives, volunteers with UWCT's Volunteer Income Tax Assistance (VITA) program dedicate themselves to preparing hundreds of tax returns for Central Texas residents in need. With the help of many community partners, these IRS-certified volunteers return over a million dollars to our community and save our co-workers, neighbors, and friends hundreds of thousands of dollars in tax preparation fees.
In addition to VITA, the Tax Counseling for the Elderly (TCE) program offers free tax help for all taxpayers, particularly those who are 60 years of age and older, specializing in questions about pensions and retirement-related issues unique to seniors. The IRS-certified volunteers who provide tax counseling are often retired individuals associated with non-profit organizations that receive grants from the IRS.
For more information on scheduling an appointment, or to become a volunteer, click here.
This UWCT program is funded in part through a grant from BBVA Compass Foundation.


ALICE - Asset Limited, Income Constrained, Employed
ALICE, an acronym which stands for Asset Limited, Income Constrained, Employed, represents the growing number of individuals and families who are working, but are unable to afford the basic necessities of housing, food, child care, health care, and transportation.
We see ALICE every day – hard workers who keep the Texas economy running. We find ALICE working behind cash registers, serving us in restaurants and retail stores, and caring for our young and elderly. They are our friends, family, and people we rely on every day. Yet they aren't always sure that they can put food on their own tables or gas in their cars.
The data from this report shows that 28 percent of Texas families are ALICE. Combined with households that fall below the federal poverty line, this means that 42 percent of Texas families do not earn enough money to meet the Texas ALICE Household Survival Budget that uses conservative estimates on monthly expenses for housing, child care, food, transportation, health care, basic technology, and taxes.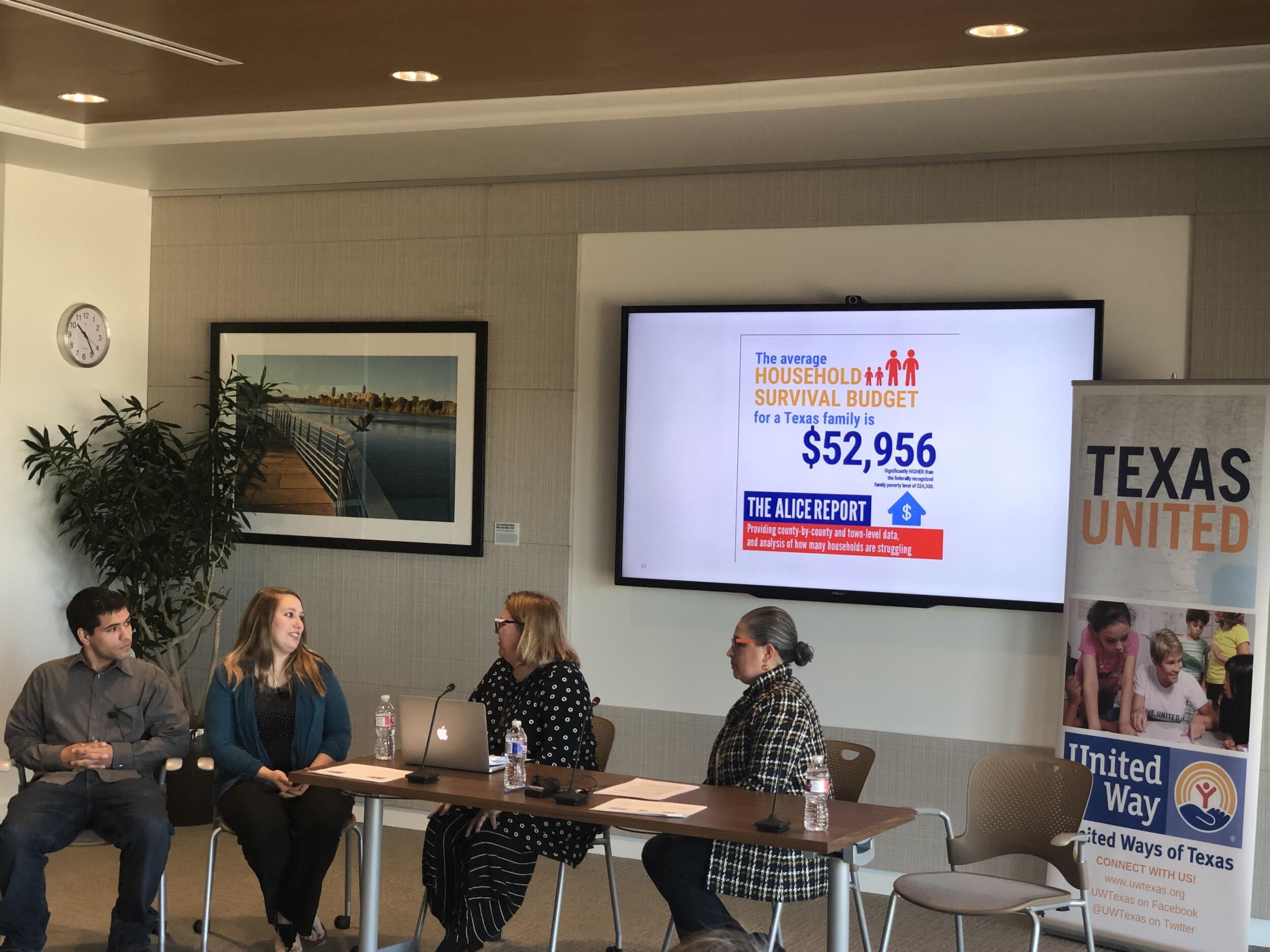 Pictured: Sam & Alex, who have participated in multiple UWCT financial stability programs, meeting with United Ways of Texas representatives at the state of Texas launch of ALICE.
Why ALICE Matters
ALICE workers are essential to the fabric of our society. ALICE works in jobs that are integral to our communities, from child care educators and home health aides to mechanics – all workers we rely on every day. The future success of our communities is directly tied to the financial stability of ALICE households. When ALICE suffers and is forced to make difficult choices, we all face serious consequences.
The United Way of Central Texas partnered with the United Way of Texas to launch ALICE in Texas in January, 2019 by connecting an ALICE family from Temple who has successfully participated in several financial stability programs at the UWCT and was able to share their story to provide advice and encouragement to others struggling to make household ends meet. You can view the full report from United Ways of Texas here.