University of Mary Hardin Baylor (UMHB) Student United Way represents the next generation of community leaders. We focus on education, financial stability, health and basic needs – the building blocks for a good quality of life and BOLD COMMUNITY IMPACT.
UMHB SUW continues to live out the university's mission statement of service, servant leadership, faith-informed discernment in a global society.  
In order to improve lives in Central Texas, UMHB SUW  focuses on the four building blocks of life: Education, Financial Stability, Health and Basic Needs. A healthy community learns well, earns well, and lives well. Through initiatives and investments guided by community volunteers, UHMB Student United Way works along side UMHB and United Way of Central Texas to advance the common good in conjunction with its many partner agencies and community impact partners.
Meeting Information: 
UMHB Student United Way meets twice a month on every other Thursday at 6 p.m. in Brindley Auditorium at the York Science Center. 
Public Contact: 
President - Ms. Sarah Wong
UMHB Faculty Advisor - Ms. Mary Baucom
Board Members:
Directors of Education: Ms. Bridgit Sillman, Ms. Cassidy Menard 
Directors of Public Relations: Ms. Reagan Shafer, Ms. Karen Gonzales 
Directors of Student Engagement and Community Impact: Ms. Rachael Hopson, Ms. Claudia Gloria
Director of Health: Ms. Abbie Barros 
2016-17 Semester Projects:
 
Volunteer Income Tax Assistance (VITA) Program
Over 30 Student United Way volunteers will offer free tax help to low and moderate income individuals, persons with disabilities, the elderly and those having limited English proficiency. The students became IRS certified VITA volunteers and will provide basic income tax return services without charge, ensuring 100% of the tax refund went directly to the customer.
"University of Mary Hardin-Baylor is teaching students not only skills, but service, and the VITA program is the perfect opportunity to do both.
I am so thrilled to see the students gain experience in their field while giving back to the community."
- University of Mary Hardin-Baylor Accounting, Economics and Finance Instructor, Jo Ireland. 
Wayman Manor Early Childhood Education
Student United Way volunteers provided early childhood education to children at Wayman Manor in Temple while the children's parents attended financial stability classes led by UWCT partner agency, Family Promise. Activities with the children included reading, tutoring, and outdoor learning.
Operation Christmas Child
SUW volunteers gathered donated hygiene items and toys for in-need children around the world.  
Operation Christmas Child Testimony - UMHB SUW from UMHB Student United Way on Vimeo.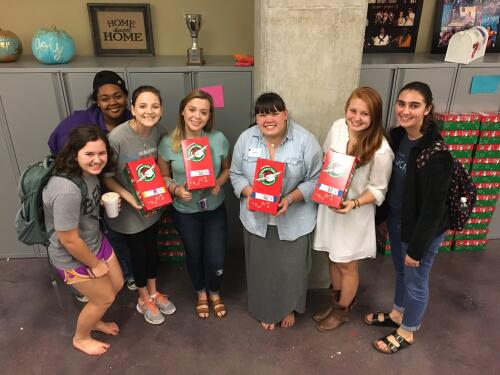 Crusader Football Silent Auction:
During a Crusader football game, UMHB SUW hosted a silent auction to benefit the United Way of Central Texas. University department teams created and donated the baskets.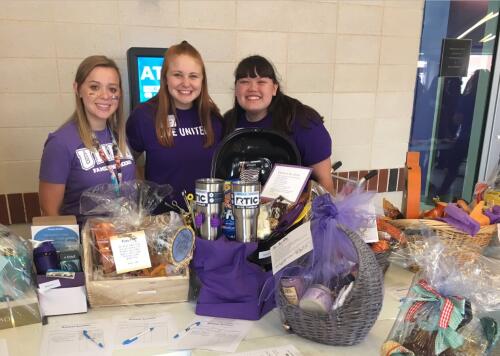 Chrome & Carols Festival of Trees:
SUW volunteered at the Sixth Annual Chrome and Carols Festival of Trees. The event is the United Way of Central Texas' only in-house fundraising event. Each year, eleven professionally decorated trees with over $1,000 of gifts beneath each tree are raffled off to 11 lucky winners that on event night. Winners will take their prizes home that evening, SUW volunteers broke down the trees and loaded the gifts, tree, and decorations into the winners' vehicles. United Way of Central Texas staff is very grateful for the volunteer manpower UMHB SUW provided. The event would not have been possible without them.