2018-19 Campaign Chair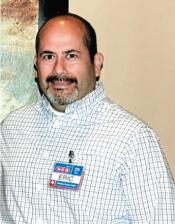 I am honored and proud to serve as the 2018 United Way of Central Texas Campaign Chair. Thank you to the Bell County citizens and community leaders who have provided their leadership, numerous volunteer hours, and financial donations to help sustain the United Way programs.
United Way cares about the individuals living in Central Texas and leverages the work of many non-profit agencies, experts, and volunteers to offer quality health and human support services to our community.
As we embark on this year's campaign, I encourage all of the citizens, businesses and community leaders in the Bell County area to help support our local United Way. Funds are used to assist our neighbors not only when the need arises but to help gain access to education, health and financial stability. I sincerely thank the incredible staff for being the game change makers and to everyone for doing their part to help make Central Texas the best place to live and raise a family. Your support is critical and truly appreciated.
United We Fight, United We Win.
Eric Tovar
Belton H-E-B Unit Director
Central Texas Region
2018-19 Campaign Chairman